Apple iPad has tablet market cornered -- for now
(Read article summary)
The Taiwanese company Acer says it will not produce its own tablet computer in 2010. That leaves the Apple iPad the flat-screen machine to beat.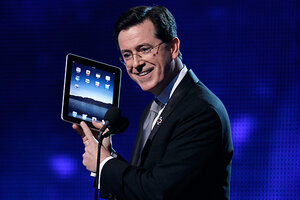 Mike Blake/Reuters
Late last month, Bloomberg News reported that the Taiwan-based Acer would wade into the e-book and applications market, a move presumably intended to counter the buzz surrounding the Apple iPad. But according to DigiTimes, Acer Taiwan president Scott Lin announced that while Acer had the capability to build a tablet, it would focus instead on ultra-light laptops in 2010.
Lin's reasoning had everything to do with the popularity of iTunes, and the ability of the Apple iPad to attract hordes of third-party developers. "Historically, closed platforms are typically limited in terms of scale and are confined to niche markets," Lin said. "Apple has built is business out of carving its own niche, which means that while Apple could see success with devices like the iPad, other players are unlikely to be able to replicate its result simply by copying."
---