Facebook Celebrity Doppelganger Week: What you need to know
(Read article summary)
The online celebrity look-alike fad has people swapping their profile pictures for shots of actors, musicians, athletes – even First Lady Laura Bush. How'd it start, how can you join in, and is it, um, legal?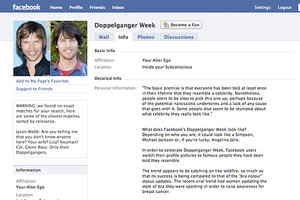 Facebook screengrab
Forget Groundhog Day. This week, if you're on Facebook, the buzz is on famous friends.
The social networking site has of late played host to an online fad: "celebrity doppelganger week." In a move that will surely mark the end of said fad, we here at Horizons now provide a rundown of the viral phenomenon, starting with what it is.
At its most basic, celebrity doppelganger week (henceforth known as CDW) asks Facebook users "Ever been told you look like _____?" If the answer is yes, track down an acceptable photo of your celebrity double and post it as your profile pic. For more explanation, there's even a Facebook group that's sprung up to chronicle the event – very meta if we do say so.
Who started it?
Viral videos have a clear originator (see David After Dentist, Charlie Bit My Finger). Trends like this and the New Orleans Saints' "Who Dat" movement, though, can prove harder to tack down. The Huffington Post's Alex Grossman recently posted an interview with the man who's claiming responsibility for CDW. "It all started when the guys at work started teasing me that I look like Tom Selleck. They're like, 'Hey, Tom Selleck, what are you doing?' Or, 'Yo, Tom Selleck, we're talking to you,' " says game designer Bob Patel.
---