Monopoly gets radical redesign -- goodbye, paper money
(Read article summary)
Hello, debit cards. The new circular board is certainly modern, but will it win over Monopoly purists?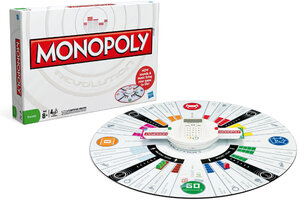 Newscom
Seems it's redesign day here at the Horizons blog. Facebook updated its layout. Publishers demanded Amazon raise its prices. Heck, Heinz changed its classic ketchup packets for the first time since 1968.
Now, the board game Monopoly has followed suit.
In honor of the game's 75th anniversary, Hasbro unveiled a brand new board and digital interface for the classic tycoon playground. The special "Revolution Edition" will be available in the fall and pack several surprises.
First, the world is round. As your imaginary real-estate mogul learns the ups and downs of capitalism, you'll romp around a ring-shaped board. Hasbro ditched the four-corners look for a pizza-like circle. The stops on this journey are the same, but each location now comes as a radial wedge. Houses and hotels basically match older versions, but the game replaced its pewter character pieces with plastic tokens. Farewell, little doggy, shoe, and top hat.
---