Vancouver 2010 Olympics: A geeks' guide
(Read article summary)
Medals made from electronics and a list of tweeting Olympians highlight this list of tech touches you may not have noticed.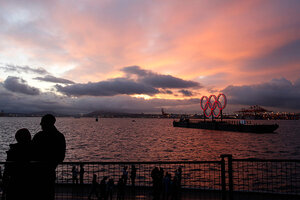 Chris Helgren/Reuters
When the Vancouver Olympics' kicks off tonight, launching the world into two weeks of winter sports competition, it's safe to say this'll also be the start of the most technologically advanced Olympics ever.
Some of the tech touches will be obvious – timekeeper Omega has brought in 250 tons of equipment to keep a close eye on who's taking home gold, silver, and bronze. But others are more nuanced. Here's a look at some top-notch Olympic and winter-sports tech.
Medals' modern metals
This is the first year that the medals won by Olympic athletes will be made of reclaimed precious metals – recycled from consumer electronics. Canadian mining company Teck Resources shreds, crushes, and melts old circuit boards, collecting the trace amounts of the good stuff in its molten state. Depending on where you live, part of that gold medal around an Olympian's neck next week could've once been sitting in your living room. Each medal is unique, and designs are laser-etched into the surface.
Think it
Cities get all dressed up to host the Olympics, but Canada is taking the Olympic touches nationwide. As part of its Olympics makeover, three Canadian landmarks – Toronto's CN Tower, Ottawa's Parliament building, and Horseshoe Falls – will get bathed in colored light that's controlled by, well, brain waves. We've seen video games, even a wheelchair controlled by thoughts. Visitors to Vancouver's Ontario House can don a headset that measures the brain's alpha waves, associated with relaxation, and beta waves, associated with concentration. CNET has the scoop:
---