iPad will be sold at Best Buy
(Read article summary)
The Apple iPad launch will be modeled on the roll-out of the Apple iPhone. Included on the initial roster of retailers is personal-tech giant Best Buy.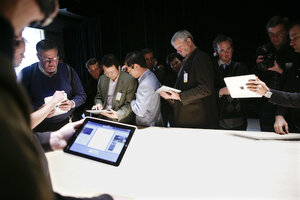 Newscom
The Apple iPad is likely to get a wide retail release in coming months, from Apple stores to Best Buy outlets and "select" retail locations. That's the news from Apple chief operating officer Tim Cook, who dished on the forthcoming iPad at a Goldman Sachs-sponsored tech conference in San Francisco. According to Apple Insider, Cook said the iPad launch will be modeled after that of the best-selling iPhone.
"Initially it will be [sold by outlets] with really great assisted sales," Cook said in San Francisco. "Over time it will expand." The iPad will ship in April, which leaves the blogosphere plenty of time to speculate on how Apple will handle the roll-out. Is a pre-launch price-drop in the cards, as we discussed here? And what about the rumors that the iPad is fitted for a camera or web-cam, as we reported here? Will lines stretch around the block at every Apple store in the Western world?
---