Forget 3G. AT&T says the Apple iPad is really a Wi-Fi device
(Read article summary)
The phone company's CEO says the kerfuffle over 3G network strain is besides the point – most Apple iPad owners will be using a Wi-Fi connection anyway.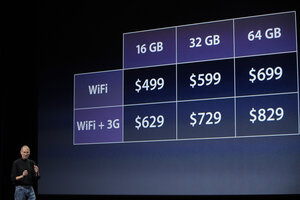 Newscom
Since Apple took the wraps off the iPad back in January, many analysts have wondered how the strained AT&T network would handle another 3G device. The naysayers offer something like this: AT&T already struggles in some markets to handle data requests from iPhone users. The arrival of the 3G-hogging iPad might fritz out the network all together.
Apple, it should be said, has stood by its man. "AT&T is a great partner," Tim Cook, chief operating officer at Apple said earlier this year. But now AT&T seems to be hinting that the 3G debate is besides the point. In a conference call with investors, AT&T chief exec Randall Stephenson forecasted that users of the Apple iPad would probably rely on Wi-Fi connections, rather than a subscription service.
"My expectation is that there's not going to be a lot of people out there looking for another subscription," Stephenson said, according to Reuters.
---