First look at Portal 2 images
(Read article summary)
Portal 2 is official. Here's what Valve has released so far.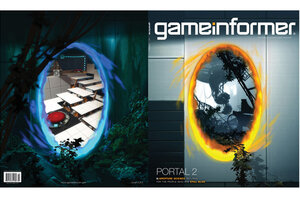 Game Informer
Portal 2 is coming.
After years of fans crossing their fingers and a week of deciphering curious images patched into the original Portal, Valve has confirmed that a sequel is on the way.
Portal is a shooter without bullets. The player's gun fires dimension-bending doorways that allow the main character to instantly travel from one area to another. Trapped in a labyrinthine laboratory, the protagonist must puzzle her way through the game's many traps. Simple yet canny – and with a healthy dash of humor – Portal surprised many gamers. Some even argue that this stocking-stuffer title outshone the more anticipated Half-Life and Team Fortress games that came bundled with Portal in the 2007 hit Orange Box for PC, Xbox 360, and PlayStation 3.
News of Portal 2 came Friday via Game Informer, a magazine that's heavy on scoops, yet light on journalistic vigor. Run by retail megachain Game Stop, it's a regular platform for early peeks at games – just remember that the magazine's publisher has an interesting in convincing you to buy those games.
---