'District 9' bests 'Avatar' among BitTorrent fans
(Read article summary)
Of the ten Best Picture nominees, 'District 9' was the most popular with users of file-sharing services. That's almost as good as an Oscar.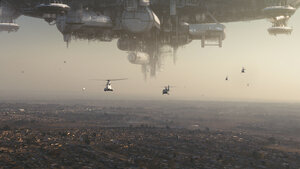 Newscom
There are many ways to measure the success of a movie – box office returns, critical reception, Twitter buzz, little gold statues. But what about illegal downloads? It's not as outlandish an idea as it sounds. Millions of people around the globe use BitTorrent file-sharing services to access their favorite movies, television shows, and music. By taking stock of all that (very illicit) activity, we might get another window into a movie's audience.
Enter TorrentFreak, a blog that monitors and reports on file-sharing activity. Last night, on the eve of the Academy Awards ceremony, the team at TorrentFreak organized the Best Picture nominees according to the number of BitTorrent downloads. The results are illuminating. For instance, if you watched the Oscars, you know that "Hurt Locker" was the grand prize winner, snatching up prizes for Best Picture and Best Director.
You also probably know that "Avatar," a favorite for the Best Picture Oscar, is the highest-grossing movie of all time. One might assume that "Avatar" would also be the most popular among illegal downloaders. Not so. According to TorrentFreak, the sci-fi flick "District 9" saw upwards of 12,600,000 downloads in 2009, compared to 11,326,000 for "Avatar," and somewhere near 8 million for "Hurt Locker."
---