3D TV has a tough road ahead, says James Cameron
(Read article summary)
'Avatar' director James Cameron says 3D TV has a future. But he cautioned that 3D movies and shows need to catch up with the hardware.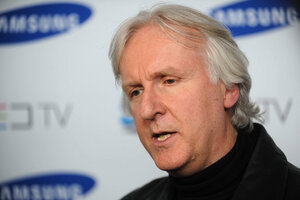 Newscom
On Wednesday, the hip-hop group the Black Eyed Peas played a free show in Times Square, in an effort to gin up excitement for a new line of 3D TV sets manufactured by Samsung. But the Black Eyed Peas weren't the only A-list attractions on hand: Samsung also recruited "Avatar" director James Cameron to film the proceedings in 3D.
Cameron, of course, is considered to be a major pioneer of 3D filmmaking, and his presence was meant to add some credibility to the whole 3D TV movement. As we reported earlier this week, Sony, Samsung, and Panasonic are putting some major weight behind 3D TV. Sony exec Yoshihisa Ishida predicted that 3D televisions would "liberate 3D from the confines of movie theaters," and Samsung said it will ship 2 million 3D sets in 2010.
---