Can PlayStation Move, Natal revive video game sales?
(Read article summary)
February was a rough month for video game sales. One bright spot: demand for the Sony PS3 and the Microsoft Xbox 360 were up. Will PlayStation Move and Project Natal help?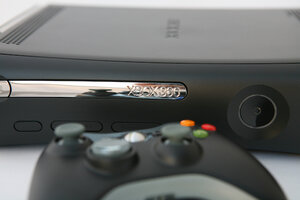 Newscom
As designers look ahead at PlayStation Move and Project Natal at the Game Developers Conference in San Francisco this week, the industry as a whole got some bad news.
Americans spent roughly $126 billion on Xbox 360, PlayStation 3, Nintendo Wii consoles, video games, and accessories in February, a 15 percent drop from one year ago. That's the news today from NPD, a market research group that reports on trends in US consumer spending. In an interview with the Associated Press, NPD Group analyst Anita Frazier says she was surprised by the weak showing.
"I had expected the industry to perform somewhat better this month," Frazier says.
It's been a grim year or so for the video game market, which has seen scaled-back interest in so-called casual gaming titles such as "Wii Fit," "Guitar Hero," and "Rock Band." In 2008, for instance, music games generated $1.4 billion in revenue. They now generate half that amount, NPD says.
---