At SXSW, Twitter unveils @anywhere
(Read article summary)
Twitter CEO Evan Williams has taken the wraps off @anywhere, a service which will allow users to access their Twitter feeds from third-party sites. As of SXSW, initial @anywhere launch partners include the New York Times and the Huffington Post.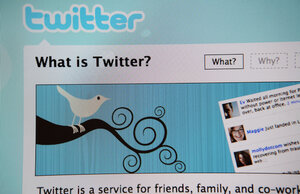 Newscom
Twitter CEO Evan Williams delivered the keynote at the SXSW festival today, and he used part of his address to unveil @anywhere, Twitter's answer to the ever-popular Facebook Connect. From the looks of it, @anywhere is essentially an integration tool: when the service launches, users will be able to access Twitter without ever leaving their favorite third-party sites.
For instance, let's say you're reading a column on NYTimes.com. You want to weigh in on the column, but you don't want to open a new window to bang out a 140-character tweet. With @anywhere, you could access your Twitter feed by dragging your mouse over an @anywhere icon, and bringing up what Williams called a "hovercard" input field.
Twitter is billing the @anywhere initiative as a natural extension of the main Twitter.com site.
"Imagine being able to follow a New York Times journalist directly from her byline, tweet about a video without leaving YouTube, and discover new Twitter accounts while visiting the Yahoo! home page – and that's just the beginning," Twitter co-founder Biz Stone wrote on the official company blog. "With @anywhere, web site owners and operators will be able to offer visitors more value with less heavy lifting."
---