God of War 3 review roundup
(Read article summary)
Kratos takes on Olympus in this PS3 exclusive, and the God of War 3 review scores are sterling.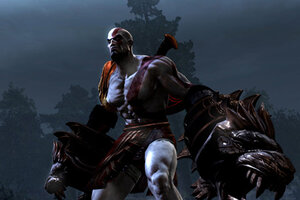 Sony Computer Entertainment/AP
As "God of War 3" review scores pour in, it's clear that the PlayStation 3 has a hit on its hands. This final chapter in Kratos's battle against the gods of Greek mythology is the first for Sony's PS3. The top-notch action has carried over to the new system, according to reviews, but the graphical difference is clear.
Warning to parents and squeamish gamers: This game is an adults-only adventure. Much like the vindictive Nazi hunters in Quentin Tarantino's "Inglourious Basterds," Kratos chooses a very bloody path toward vengeance. The body count is steep; the causes of death are brutal. "God of War 3" earns its Mature rating almost immediately and never looks back.
But reviews agree that, much as with Tarantino movies, the blood comes bottled in a gilded cup. God of War's signature style does not lie in witty dialogue and artistic allusions, but in its empowering combat, superlative graphics, and uncanny sense of scale.
IN PICTURES: Top 10 controversial video games.
For a further breakdown, let's turn to the God of War 3 reviews:
The battle system
---