AT&T ZERO charger billed as 'vampire' killer
(Read article summary)
The AT&T ZERO charger shuts down when not in use, reportedly eliminating the dreaded 'vampire suck.'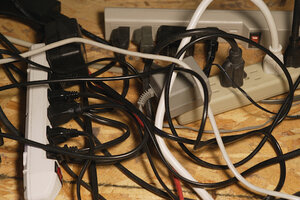 Newscom
The AT&T ZERO Charger aims to combat a phenomenon infamous enough to earn its own spooky moniker. According to the US Department of Energy, as much as 20 percent of electricity flowing to power electronics is consumed when the devices are off – the dreaded "vampire suck." And few vampires are as hungry as cell phone chargers, which draw energy even when they're not hooked up to a cell phone.
That's right: Any time your phone's charger is plugged into the wall or a power strip, it's guzzling electricity.
But fret not, dear cellphone owners – a solution is in sight. Earlier today, AT&T took the wraps off its ZERO Charger – all caps on the ZERO, please – which completely shuts down when its not in use. Good news for the earth; good news for your electricity bill.
No word yet on exact price for the ZERO, but AT&T says the device will cost about as much as a regular replacement charger. (Think in the 15 to 20 buck range.) The ZERO is said to be compatible with most of AT&T's major smart-phones; the fact that the ZERO is USB-friendly suggests that the charger should also work with the top-selling Apple iPhone and the Google Nexus One, which recently joined AT&T.
---