Report: Apple plans Verizon iPhone
(Read article summary)
The Wall Street Journal reports that Apple has ordered a CDMA version of its popular smart phone. Could this mean a Verizon iPhone?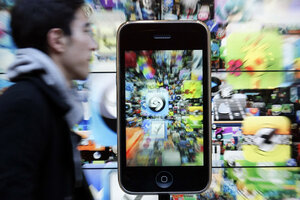 Newscom
Like the Loch Ness Monster, a Verizon iPhone has been a creature of myth. Reports of sightings and rough details have surfaced since before the original Apple iPhone appeared in 2007. But this Nessie just got a very reputable witness: The Wall Street Journal.
The newspaper reported Monday that Apple has ordered a second version of its popular smart phone. This new edition will work on CDMA networks, the cellular technology used by Verizon, Sprint, and a few foreign carriers. Currently, the iPhone only works on the more common GSM mobile standard, used by Apple's exclusive US partner, AT&T, and most carriers around the world. Learn more about the differences in this quick explainer on cellphone tech.
Today's new information, provided by anonymous sources, suggests that this CDMA iPhone will be ready in September, though Apple may wait months or maybe years before revealing such a device to the public. The popular narrative about AT&T's secret, exclusive deal with Apple says that their partnership lasts through 2010. The phone company, which has gained considerable cachet from the iPhone, has pushed to expand the agreement into 2011.
---