Facebook bug reveals scores of private email addresses
(Read article summary)
A bug briefly exposed the contact information of many Facebook users on Tuesday night. Facebook reps say the problem is resolved. But how safe is the information on your Facebook page?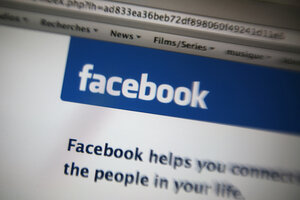 Newscom
For at least half an hour on Tuesday night, a bug exposed the private email addresses of many Facebook users, and erased the functionality that allows users to hide some contact information. Facebook reps told the tech site V3 that the problem had occurred during a "regular code push," and confirmed that "the bug caused hidden email addresses to be visible briefly." As of Wednesday morning, the problem appears to be fixed.
The bug was a jolt to Facebook, and to millions of Facebook fans already concerned about privacy settings on the popular social networking site. "Everybody's email has been turned on to the public for at least the past 30 mins," a Gawker reader complained last night. "I tried going into my account to remove my email b/c I have an issue with a crazed stalker. But I wasn't able to... When will they ever learn?!"
---