Topeka: Google pulls April Fools' prank after Kansas's renaming stunt
(Read article summary)
Why does Google say Topeka? April Fools' Day!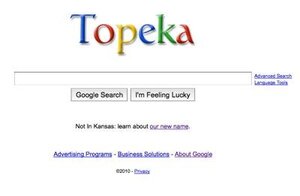 Screen grab
Topeka? Today's Google name change may confuse visitors at first. But check the date.
Google has a long history of April Fools' Day pranks. From upside-down YouTube clips and replacing videos with text to partnering with Virgin to create the Mars expedition team Virgle, Google has pulled more gags than the MIT frats to which many of its employees once belonged.
However today's spoof has a touch of real-world consequence. Last month, Topeka jokingly changed its name to Google, Kansas. This earlier renaming stunt, pulled well before April 1, tried to grab Google's attention. The company has offered to test a super-high-speed broadband network – 20 times faster than current commercial options – in one US city. This promise, which comes with plenty of publicity and probably new jobs, sent cities across the country into a lighthearted bidding war.
Topeka renamed itself. Duluth, Minn., mayor Don Ness jumped into frigid Lake Superior in just a T-shirt and shorts – then uploaded the video to YouTube, of course. "I've laid down the gauntlet," Mr. Ness says in the video. "All right, you other mayors, you want Google fiber? You jump in Lake Superior!"
---