Apple iPad apps include HD games, 'luxury' ocean views
(Read article summary)
Apple today opened the iPad section of its popular App Store. The iPad apps selection price looks great – but the price tags may be a problem.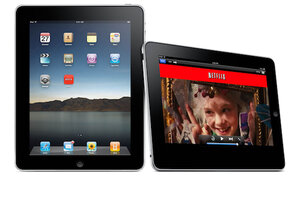 Newscom
A day before the official launch of the iPad, Apple has begun offering hundreds of apps for its new tablet, from a free Netflix download and a third-party Twitter platform to "Need for Speed Shift," a car-racing video game currently selling for $14.99. Many of the iPad apps are simply "iPad optimized" versions of apps already available for the Apple iPhone and iPod Touch.
But the App Store also features a slew of programs designed exclusively for the iPad. Among them: "Fairies Fly," an $8 app from Disney; "Gilt," a free shopping application; and a high-resolution football game from Gameloft. There's even an application called "Ocean Blue," which offers "your very own luxury view of the ocean." Price tag? 10 bucks.
The question now is how consumers and developers will respond to the wealth of options offered up by Apple's newest device. On the iPhone, for instance, there are more than 27,000 book apps currently available – making books the biggest category of iPhone apps. By comparison, there are approximately 25,000 games on Apple's iTunes App Store.
---