Hans Christian Andersen: 'Thumbelina' fairy tale enchants the Google homepage
(Read article summary)
Scenes from the Hans Christian Andersen story 'Thumbelina' replace the search engine's logo in this latest Google doodle.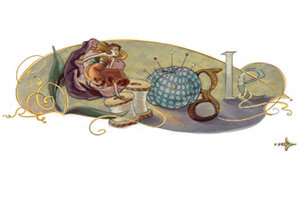 Screen shot
Just 24 hours after Google pulled its Topeka April Fools' prank, the search engine's logo has changed again – this time honoring the fantastical imagination of Hans Christian Andersen.
The Danish author wove several of today's most popular fairy tales, including "The Little Mermaid," "The Emperor's New Clothes," and "The Ugly Duckling." Today marks his 205th birthday.
Google's tribute to Hans Christian Andersen riffs off his story of "Thumbelina." The tale revolves around a tiny girl that was born from a flower and sleeps in a walnut cradle. But to capture the twists and turns of Thumbelina's adventure, Google created a five-part image gallery, which users can advance by clicking the on the logo. It begins with itty-bitty Thumbelina amid her family's knitting tools. Next, we see the frog and mole that each try to marry her. Once she escapes the frog that kidnapped her, she must hide from a harsh winter, depicted in the third slide. Then, after gliding on the back of a bird (image four), she finds a miniature prince (the final picture). The two, of course, live happily ever after.
---