Sharp rolls out mobile 3D TV -- no glasses required
(Read article summary)
Sharp's newest gadget is a glasses-free 3D TV set. But not everyone is convinced Sharp is on the right track.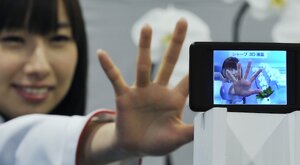 Newscom
Back in March, Nintendo announced a handheld gaming device called the 3DS, which apparently does not require 3D glasses to play games with three dimensions. Details weren't exactly forthcoming, but a video clip suggested that the 3DS might utilize parallax mapping technology to simulate depth and distance. Now electronics maker Sharp is showing off 3.4-inch 3D-capable LCD TV – and like the Nintendo 3DS, Sharp's device will let users go without the geeky glasses.
"In the 2D era, contents and infrastructure have spread from movies to homes, and from homes to mobile devices," Sharp exec Yoshisuke Hasegawa told a gathering of reporters in Tokyo, according to Reuters. "We believe the same thing will happen with 3D. Three-dimensional images that mostly inhabit big screens now are about to hit mobile terminals."
Early reports indicate that the 3D effect appears when the user tips the Sharp device at a certain angle. But IDG News Service has complained that the TV quickly turns blurry if the device isn't held in the right manner, and others have fretted about the subpar 3D visuals. (No word on availability or pricing.) Predictably, bloggers have had a field day with the Sharp gadget.
---