How to make phone calls on your Apple iPad
(Read article summary)
A company has released an VoIP app that lets you turn your Apple iPad into something like an iPhone. No, this isn't a belated April Fools' Joke.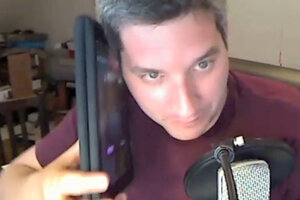 YouTube
Since the iPad was first unveiled back in January, many detractors have complained that the much-hyped tablet device is really just an oversized iPhone, without the iPhone part. They have a point.
As Comedy Central star Stephen Colbert so astutely noted, "If you've got an iPhone already, a lot of [the iPad] will be very familiar to you. The same touch screen technology. The same apps. And just like the iPhone, you can't make calls with it."
Ha! Actually, scratch that last part.
This week, a company called Truphone has released an iPad app which essentially allows iPad owners to wield their gadget like a giant iPhone. Some background: Truphone is a VoiP application. Like Skype, it harnesses the power of the Web to bypass traditional phone lines.
---