iPad versus iPhone: Which had the better opening weekend?
(Read article summary)
Apple has confirmed its iPad sales figures. They don't match iPhone 3GS numbers, but Wall Street is happy.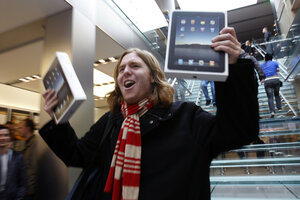 Paul Sakuma/AP
The iPad sales figures are in. Apple reported this morning that it sold more than 300,000 iPads on Saturday, the same day the tablet computer debuted.
This tally includes US pre-orders that arrived on people's doorsteps this weekend and copies sold in Apple stores.
New iPad owners quickly got to work tinkering with their new device: Shoppers downloaded more than 1 million iPad apps on Saturday and purchased more than 250,000 ebooks.
"It feels great to have the iPad launched into the world – it's going to be a game changer," Apple CEO Steve Jobs says in a statement. "iPad users, on average, downloaded more than three apps and close to one book within hours of unpacking their new iPad."
Not bad for less than 24 hours. But how does it stack up to the Apple iPhone? The answer depends on which model you compare the iPad to.
A month after the original launched in June 2007, AT&T counted 146,000 iPhones running on its network. Wall Street consensus expected a number several times larger. But from this slow beginning, Apple picked up considerable speed. Just a few months later, the iPhone and iPod Touch collectively became the fastest-adopted gadgets in history.
---