iPhone OS 4.0: Multitasking, iAd get top billing at Apple announcement
(Read article summary)
At Thursday's Apple announcement, Steve Jobs rolled out a new operating system for the Apple iPhone and iPad. The highlights of the iPhone OS 4.0 include an advertising platform called iAd, a digital zoom for the iPhone camera, and multitasking capabilities.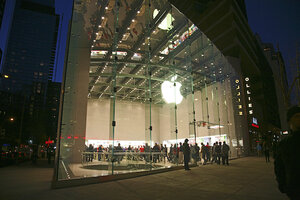 Newscom
On Thursday, Apple CEO Steve Jobs took the stage in Cupertino, Calif., to introduce iPhone OS 4.0, the long-awaited upgrade for Apple's top-selling smart phone. As expected, the iPhone OS 4.0 will support app multitasking – a functionality that should make it easier for users to flip between active apps. Jobs was quick to stress that multitasking on the iPhone wouldn't totally suck up battery power.
"It's really easy to implement multitasking in a way that drains battery life," Jobs said, according to Wired Magazine. "If you don't do it just right your phone's going to feel sluggish and your battery life is going to go way down. We've figured out how to implement multitasking of third-party apps and avoid those things," he added. "It's very, very easy to use and very efficient, and I think users are going to love it."
---