Apple iPad banned in Israel
(Read article summary)
The Israeli government, citing compliance concerns, says it will seize any Apple iPads imported through customs. Meanwhile, international demand for the Apple iPad continues to grow.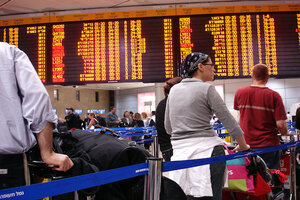 Newscom
Headed to Israel? Better leave that brand new Apple iPad behind. Earlier this week, the Israeli Communications Ministry directed the customs authority to confiscate all iPads coming into the country – effectively instituting a ban on Apple's newest device. The announcement "follows the refusal of the ministry's engineering staff to compromise on testing the device's suitability and compliance with Israeli wireless networks," reports Israeli newspaper Haaretz.
Haaretz spoke to one man who had returned from the US with an iPad, only to have the device taken by customs officers. "It is forbidden to bring iPads into Israel; send it back overseas," the officers reportedly told the man, adding that he would have to apply to the government to have the iPad returned. Until then, the iPad has been shipped to a customs warehouse. Here's the official statement from the Israeli government, courtesy of Haaretz:
The iPad device sold exclusively today in the United States operates at broadcast power levels [over its WiFi modem] compatible with American standards. As the Israeli regulations in the area of WiFi are similar to European standards, which are different from American standards, which permit broadcasting at lower power, therefore the broadcast levels of the device prevent approving its use in Israel.
---