Avatar DVD and Blu-ray smash sales records
(Read article summary)
First, James Cameron conquered theaters. Now the Avatar DVD and Blu-ray have become the fastest selling in history.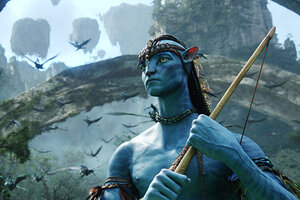 20th Century Fox/Newscom
James Cameron can boast about a few more superlatives today. His sci-fi epic "Avatar" is already the biggest box-office hit ever – supplanting his previous opus, "Titanic."
Now we learn that the "Avatar" DVD and Blu-ray have also topped the charts. In its first four days in the US, "Avatar" sold 4 million DVDs and 2.7 million Blu-ray discs. That makes it the fastest-selling home video release in history, with sales totaling $130 million.
Good thing, too. One of the movie's other superlatives is most-expensive film ever made. The budget likely surpassed $300 million.
---