Hugo Chavez will reportedly take the revolution to Twitter
(Read article summary)
Venezuelan president Hugo Chavez once called Twitter a haven for terrorists. Now, a rep for Chavez says the president will soon join Twitter. Too bad @HugoChavez is already taken.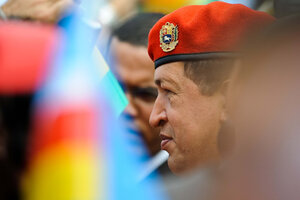 Newscom
Back in January, Hugo Chavez, the notoriously outspoken president of Venezuela, likened Twitter criticism of his administration to "terrorism." But as Conan O'Brien has proved, resistance to Twitter is near futile. This week, a government spokesman said Chavez would soon sign up for Twitter, and predicted thousands of Twitter users around the world would flock to the president's feed.
"Comandante Chavez is going to open his Twitter account soon to wage the battle online," said Diosdado Cabello, director of Venezuela's state-run telecommunications agency, according to Bloomberg News. "I'm sure he'll break records for numbers of followers." Unfortunately for Chavez, @HugoChavez is already taken. Moreover, as Bloomberg notes, the popularity of world leaders on Twitter varies wildly.
---