Boy Scouts of America offers pins, loops for video game prowess
(Read article summary)
Forget basketry. In 2010, you can earn an award from the Boy Scouts of America for video games.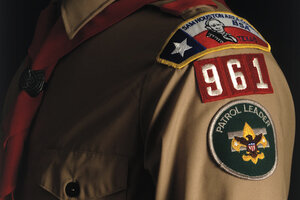 Newscom
You can earn a Scout merit badge in carpentry, citizenship, and basketry. And now, you can earn Scout belt loops or pins for jamming the buttons on your Xbox 360 or PlayStation 3 controller wicked hard. That's right folks: Beginning this month, the Boy Scouts of America will offer awards in video game prowess to Tiger Cubs, Cub Scouts, and Webelos Scouts.
According to the Boy Scouts of America site, Scouts can complete three relatively minor tasks, and earn a gaming belt loop, or complete five more strenuous tasks, and earn an "academic pin." For those interested in the academic pin, options include playing a video game with family members in a family tournament or teaching an "adult or a friend how to play a video game."
---