Faisal Shahzad Facebook mixup highlights hazards of Web journalism
(Read article summary)
Earlier today, bloggers at the Huffington Post published a photo from Faisal Shahzad's Facebook page. One problem: They got the wrong Faisal Shahzad.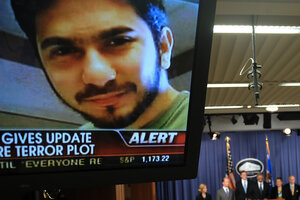 Newscom
It was a testament to the hazards of reporting in the digital age. Earlier today, as news of the alleged identity of the would-be Times Square bomber rocketed around the Web, a reporter at the Huffington Post published a screen shot from the Facebook page of a man named Faisal Shahzad. It made sense: Shahzad, a Shelton, Conn., resident, had been identified by law enforcement after he was hauled off an airplane preparing to depart Kennedy Airport.
But the Huffington Post got the wrong Faisal Shahzad – a fact noted by several bloggers, including Glen Runciter of Gawker. "This is almost definitely not the Facebook profile of the terrorist behind the Times Square bombing attempt," Mr. Runciter writes, pointing out that the HuffPo's Shahzad was a Facebook fan of Syed Mustafa Kamal, the mayor of Karachi, and a relatively progressive politician.
---