Wii Party touted as next marquee title for Nintendo Wii
(Read article summary)
Nintendo president Satoru Iwata says Wii Party, set for release this year on the Nintendo Wii console, will allow users to sign on using their Mii avatars.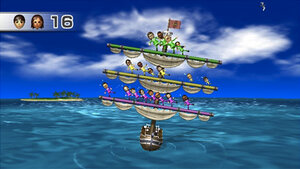 Nintendo
It's not going to be an easy couple of months for Nintendo. For one, sales on the top-selling Wii console have begun to slip. Then there's the double threat posed by Project Natal and the PlayStation Move, two new motion-control systems manufactured by Microsoft and Sony, respectively. But fret not, dear Nintendo fans! Your favorite company has a plan, and that plan involves a really big party.
Earlier this week, in a presentation to investors, Nintendo president Satoru Iwata took the wraps off Wii Party, which he says would be the next "marquee party" title for the Wii. According to Nintendo, Wii Party will involve the roughly 160 million Mii avatars currently in use around the globe. Players will sign on using their mini-Mii, and.... well, we're not sure what they'll do once they sign on. Party, probably.
---