Steam for Mac debuts today with Portal and Torchlight
(Read article summary)
Apple fans rejoice. Steam for Mac has arrived with Portal, Torchlight, and the promise of regular Wednesday updates.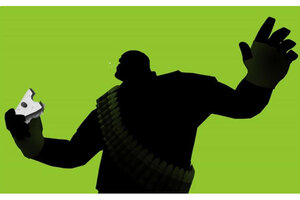 Valve
Apple gamers may have finally found a home. Steam for Mac opens its digital doors Wednesday, creating a marketplace and online hub for OS X computer games.
Valve, the company behind Steam and the "Half-Life" and "Left 4 Dead" franchises, has already created a bustling store for the PC. In fact, Steam shines as one of the few recent success stories to emerge from the hardcore PC gaming industry, which has sagged under the growing importance of console video games and casual Web browser titles. Now Valve hopes to recreate that success for the Mac, a platform that many gamers have written off after years of getting the cold shoulder from Apple.
Steam for Mac launches today with two big releases: "Portal," the Valve cult favorite that mixes the controls of a first-person shooter with the mind-bending logic of a 3-D puzzle; and "Torchlight," a fantasy adventure similar to "Diablo."
"On subsequent Wednesdays, additional collections of Mac titles will become available, each designed to highlight specific functionalities of Steam on the Mac," says Valve in its announcement. "The first collection of Mac titles will demonstrate 'Steam Play,' which allows customers to purchase a game once and play it on all Steam supported platforms."
---