Did Twitter boot Justin Bieber from the Trending Topics list?
(Read article summary)
Not exactly. But an update to Twitter's news algorithm means that Justin Bieber will no longer be a permanent presence on the Twitter trends list. And Justin Bieber fans aren't taking the news lying down.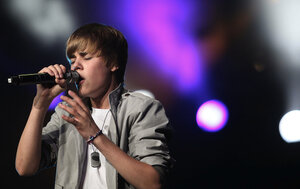 Newscom
For months, tween sensation Justin Bieber enjoyed a permanent spot on Twitter's Trending Topics lists. As of late last week, Bieber had been knocked off his perch. So did the Twitter team just get sick and tired of seeing Justin Bieber's name every moment of the day?
Not exactly. According to a post published on the official Twitter blog, the site merely updated its news algorithm – and poor Mr. Bieber was a casualty.
"Twitter is about what is happening right now, and we have recently updated our trending topics algorithm to reflect this. The new algorithm identifies topics that are immediately popular, rather than topics that have been popular for a while or on a daily basis, to help people discover the 'most breaking' news stories from across the world," Twitter reps wrote in the blog post.
Justin Bieber, unfortunately, falls under the category of topics that "have been popular for a while." Bieber was discussed regularly – and with a good deal of enthusiasm – by hundreds of thousands of Twitter users the world over. But according to Twitter's new rubric, Bieber gets the boot.
---