Google's Pac-Man 30th anniversary: Insert coin to destroy office productivity
(Read article summary)
For the Pac-Man 30th anniversary, Google outdid itself with a fully playable version of the video game.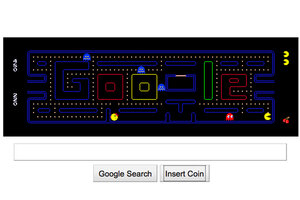 Google
Update: Pac-Man has left Google's homepage. But you can keep playing the game for free. Find out how here.
TGIF! But if the weekend can't come soon enough, consider celebrating the Pac-Man 30th anniversary from the comfort of your office chair.
Google has one-upped itself with an interactive homage to the arcade classic.
Click on the novelty logo to initiate a fully playable Pac-Man game. Or, grab a friend and click "Insert Coin" twice to start a two-player match with Ms. Pac-Man as your trusty sidekick. Use the arrow keys to control our insatiable pixel protagonist and Player Two can navigate his lady friend with the W, A, S, and D keys.
This unprecedented Google Doodle will stay up for 48 hours "because it's too cool to keep for just one day," writes designer Marcin Wichary on the company's blog.
"PAC-MAN seems like a natural fit for the Google homepage," Mr. Wichary continues. "They're both deceptively straightforward, carefully hiding their complexity under the hood. There's a light-hearted, human touch to both of them. And we can only hope you find using Google at least a quarter as enjoyable as eating dots and chasing ghosts. You know, without actually needing any quarters."
---