Google's Pac-Man 30th anniversary game is driving some people crazy
(Read article summary)
Google pleased millions with its Pac-Man 30th anniversary game. But others just want the pixel muncher to go away.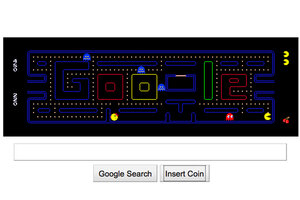 Google
Update: Pac-Man has left Google's homepage. But you can keep playing the game for free. Find out how here.
Google had a big surprise yesterday: A fully playable Pac-Man 30th anniversary game built into its homepage. Here at the Monitor, we joked that this clever birthday present to a true arcade classic would result in hundreds of thousands of lost man-hours as office productivity ground to a halt. Reading through the 50-plus comments left below our Friday story, seems we were right.
"Reporting from South Africa," writes Monitor reader Thuto. "Office productivity down by 60%, bandwidth usage down by 80%, only page visited, www.google.com."
Thuto is probably fudging those numbers a little, but his point is clear. A decent percentage of commenters share similar anecdotes. (And have you tried playing two-player?) But there is another sizable bloc of readers that wish Pac-Man would hurry off-screen and never come back.
---