At Wal-Mart, iPhone costs only $97
(Read article summary)
Forget the Apple Store. A Wal-Mart iPhone 3G S goes for under a hundred bucks, according to a new report.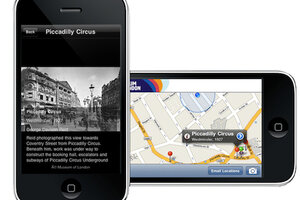 Newscom
No, the big box giant isn't releasing a specially-branded Wal-Mart iPhone. But Wal-Mart will soon offer the Apple iPhone 3G S – at a bargain-basement price. According to company reps, the Wal-Mart iPhone will go for $97, more than $100 off the current $199 price tag. "It is our commitment to always lead on price," Wal-Mart's Mehrdad Akbar says in a statement released to the press today.
Under a hundred bucks for an iPhone 3G S! Not bad. (The usual stipulations apply: To get the phone, you'll need to purchase a 2-year voice and data plan from AT&T, which has weathered its fair share of service-related problems.) And to judge by the tempest stirred up on the Web this afternoon, the discounted price will be a hit with consumers.
---