Will Rock Band 3 ship with a keyboard controller?
(Read article summary)
Rock Band and Guitar Hero limited your pop-star fantasies to a plastic guitar, a plastic mic, and a set of plastic drums. Elton John fans, brace yourselves: Rock Band 3 may include a plastic keyboard.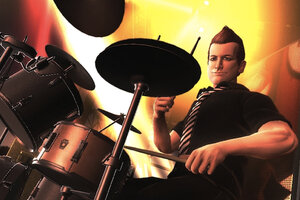 Microsoft
The evidence is a bit thin on this one, but if what we're hearing is accurate, Harmonix, the makers of the popular Rock Band franchise, could be releasing "Rock Band 3" with a keyboard peripheral. So listen up, all you fans of soft-to-moderately-hard piano rock! Pretty soon, you might finally get a chance to participate in the plastic instrument craze!
Back to that evidence: Harmonix recently released a demo for "Green Day: Rock Band" on the Xbox Live Marketplace. At the end of the demo, a bunch of adverts pop up on the screen, including a spot for "Rock Band 3," which appears to show a keyboard logo alongside the guitar, drums, bass, and mic logos. Voila!
Yeah, it's a bit spotty – and we've got no official word from Harmonix – so let's go ahead and call this one a rumor.
---