Did George W. Bush really join Twitter?
(Read article summary)
Earlier this week, several top news organizations reported that former US President George W. Bush had joined Twitter. But the George W. Bush Twitter feed is a fake, according to a Bush spokesman.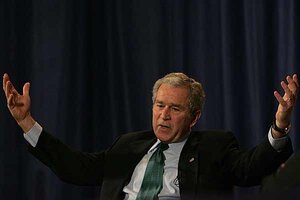 Newscom
Earlier this week, the news careened around the Interwebs: former US President George W. Bush had finally joined the Twitter revolution. His official Twitter feed, @George_WBush, had upwards of 7,000 followers, and Bush was offering up some serious gems, most of them in the third-person. "Since leaving office, President Bush has remained active," read one tweet. "He has visited 20 states and 8 countries."
Scintillating!
The only problem? @George_WBush is a fake account. (Maybe folks should have been clued in by the third-person tweeting. Or then again, maybe not.) In an interview with ABC News, Bush spokesman David Sherzer said George W. Bush did join Facebook this week, but he has no plans to join Twitter.
Sorry, loyal Bush fans. You've been had.
No word on who launched the fake George W. Bush Twitter account. But as the folks at ABC News point out, "whoever is controlling the (fake) @George_WBush has a sense of humor: That account is following four other accounts – the Republican Party, Sen. John McCain, Sarah Palin, and President Obama. Not being followed: The (real) account of @LauraWBush."
---