The Modern Warfare 2 Resurgence Map Pack release time approaches
(Read article summary)
Ready for more Modern Warfare 2? The Resurgence Map Pack release time is imminent.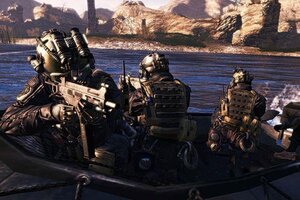 Activision/AP
"Modern Warfare 2" fans, get ready to be "Oscar Mike." The Resurgence Map Pack release time is just around the corner.
This second set of new multiplayer maps will deploy today on the Xbox 360. As with the previous map pack, PC and PS3 fans will need to wait for the downloadable expansion to arrive on their system of choice.
"The #MW2 Resurgence Package will be available later today. No exact time being given but I'll let you know when it's available for everyone," wrote Xbox Live's director of programming Larry "Major Nelson" Hryb on Twitter early Thursday morning. "The title update for #MW2 is now being rolled out to all Xbox LIVE users. It may be a few hours until everyone has it."
Mr. Hryb noted the "title update" for a good reason. The crucial bit of software prepares the game to handle the new material. When the Stimulus Package Map Pack landed in March, Microsoft didn't push out the title update in time. So, when gamers paid their $15 to download the expansion from Xbox Live, the software led nowhere. Maps failed to load. Key images didn't appear. Countdowns never ended. Oops.
---