Remove Google background, critics plead
(Read article summary)
Across the Web, a virtual mob demanded that Google remove its new background – forever. And eventually, Google showed it was listening.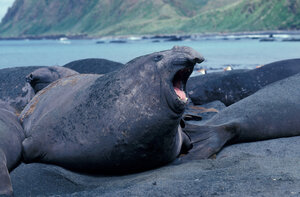 Newscom
We're not quite willing to put the backlash at Facebook levels, but the kickback against the new Google background was fast, furious, and unremitting. One way to measure the level of anger at Google is by the sheer amount of people – presumably numbering in the tens of thousands – who have spent the morning typing phrases such as "remove Google wallpaper" and "remove Google background image" into their search bar.
We've posted a quick primer on how to remove the Google wallpaper, but try not to worry too much – as of this afternoon, Google had replaced the colorful background with standard issue white, and promised that by tomorrow, things on the Google landing page would be totally back to normal.
Still, the amount of invective hurled at Google today has been remarkable, especially considering Google's stellar track record when it comes to responding to complaints. Buzz: Fixed within a few days. Nexus One customer service: Eventually got its act together. Google backgrounds: Back to white within 10 hours.
---