Remove Google background images once and for all
(Read article summary)
Three fool-proof ways to remove Google background images.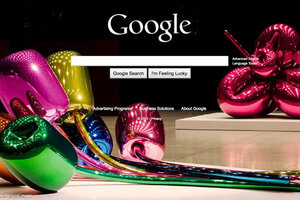 Google
Perhaps Google went overboard today. Just as the Pacman game banner drove some users batty, today's wallpaper is a little too much for a sizable bloc of Google's fans.
"Google is supposed to be clean and simple that's why people use Google and not Bing," writes one Monitor reader. "This is just annoying."
So, here are three easy ways to remove Google background images.
Option 1: White wash
At least for today, Google will not let you remove their default wallpaper. You can, however, plaster your own image on top of it. But there's no way to strip them all out; the homepage will keep reverting to photos of Jeff Koons' shiny sculptures.
You could wait it out. With rare exceptions, Google always retires its homepage flourishes after 24 hours. But, if you can't stand the photo, here's a way to outsmart it: upload an all-white image. By sticking an albino wallpaper over today's default, Google will look like itself again.
We even saved you the hassle of making an all-white image yourself. In the image box at the top of this story, click the arrow to see photo "2 of 2." Save that stark-white picture to your desktop. Then, upload it as your Google background image. It's a MacGyver move, but it works.
---