iPhone 4 pre-order gets off to slightly choppy start
(Read article summary)
Apple began taking pre-orders for its latest iPhone on Tuesday morning. But the iPhone 4 pre-order forms apparently – and temporarily – crumpled under a handful of glitches.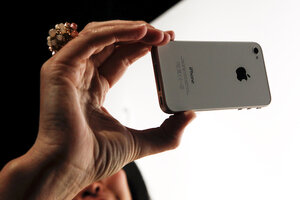 Newscom
Early adopters, take your mark. On Tuesday morning, Apple began taking pre-orders for the much-hyped iPhone 4, the boxy, feature-heavy successor to the iPhone 3G S. As of 9 a.m., Apple was only accepting pre-orders for two iPhone 4 models, both in black: The 16 GB handset, which is priced at $199 with a contract, and the 32 GB handset, which will retail for $299. Apple said pre-ordered iPhones should ship by June 24.
The iPhone 4 pre-order launch did not go off without a few snags. At 6 a.m., Computerworld bloggers reported that the the US Apple store was flashing error messages. The site apparently went down for at least an hour, and was back up at 8 a.m., at which point Computerworld staff successfully pre-ordered an iPhone 4. Meanwhile, the Register reported that the UK Apple Store had apparently crumpled under heavy traffic.
For our part, we found the Apple Store to be a bit slow, but we managed to click through to the iPhone 4 pre-order screens without much hassle. No word yet on when Apple will begin pre-selling the iPhone 4 in white, but we expect that option should be added to the site within the next week or so.
---