iPhone 4 preorders top 600,000 as unlocked iPhones head to Canada
(Read article summary)
iPhone 4 preorder sales break Apple's own record for most smart phones sold in a day. Plus: Canada gets an unlocked iPhone.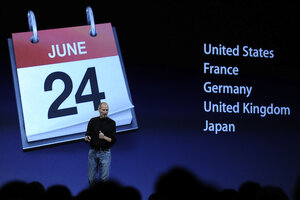 Newscom
While Apple fans pulled their hair out Tuesday trying to secure an iPhone 4 preorder, the company actually had a pretty good day.
Apple, AT&T, and the foreign iPhone carriers tallied 600,000 preorder sales in 24 hours. The number likely would have been much higher had their computer systems kept up with demand.
"It was the largest number of pre-orders Apple has ever taken in a single day and was far higher than we anticipated, resulting in many order and approval system malfunctions," writes Apple in a public apology letter. "Many customers were turned away or abandoned the process in frustration. We apologize to everyone who encountered difficulties, and hope that they will try again or visit an Apple or carrier store once the iPhone 4 is in stock."
The iPhone 4's one-day total was 10-times higher than the iPhone 3G S's last summer. And that previous model still went on to sell 1 million units in three days.
Nonetheless, these lofty stats don't offer any comfort to grumpy shoppers turned away by error messages – or by the elusive white iPhones.
---