Sony Dash review roundup, just in time for Father's Day
(Read article summary)
Sony Dash review scores suggest this Web-enabled alarm clock could be a solid gift for Father's Day.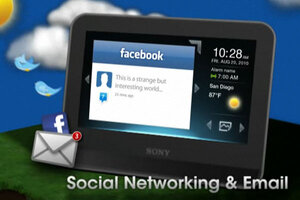 Sony
The pitch for the Sony Dash changes depending on whom you're talking to:
If a dad unwraps one this Father's Day, tell him it replaces his alarm clock and puts the Internet on his bedside table. If a grandparent opens it, you can hype how its touchscreen makes checking the weather and enjoying family updates on Facebook nice and easy. If a teenager receives it, point out how it plays Netflix movies, streams music, and juggles social networking. (Oh, and, shoppers, tell whomever balances the family checkbook that the Sony Dash costs a fraction of the iPad's price.)
With all of these features, the $200 Dash may find a spot on many people's shortlists this Father's Day. However, Sony Dash review scores deem this do-it-all alarm clock as a good gadget – not a great one. Here's a roundup of the pros and cons.
The shape:
"Hardware-wise, the Dash is pretty straightforward: there's a seven-inch capacitive touchscreen and stereo speakers on the front, a snooze bar / menu button and volume buttons on the top, a USB port and headphone jack under a chunky flap on the left, and a power connection tucked into a recess on the bottom," writes Engadget. "Most of the wedge-shaped case is covered with a you-tell-us-if-it's-attractive grippy rubber material, which means you don't worry about dropping it when you pick it up."
The features:
---