iOS 4 release time has arrived. Here's how to install it.
(Read article summary)
iOS 4 release went live on Monday afternoon. We run you through the installation of Apple's newest iPhone operating system.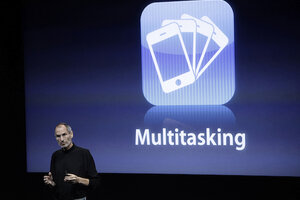 Newscom
Apple on Monday released iOS 4, the long awaited update to the iPhone operating system. iOS 4, which will arrive pre-installed on the new iPhone 4, brings a range of features to the iPhone platform, including multi-tasking, a 5x digital zoom for the iPhone camera, tap-and-zoom support for video, and a new ad platform called iAd.
The iOS 4 release went live early on Monday afternoon – approximately 1 p.m. EST – with many users reporting considerable lag time on the Apple servers. Getting ready to download Apple iOS 4? Get comfortable, and prepare for a wait. Next, jump online, and make sure you have iTunes 9.2, the latest iteration of iTunes, and the only one compatible with iOS 4.
Once you've got 9.2 installed, reboot your computer, plug in your phone, and navigate to the Check for Update button on the iPhone summary pane. Click download and go and make a sandwich. By the time you get back, you should be up and running.
---