Bing gets entertainment tab, and a leg-up over Google
(Read article summary)
Bing has long lagged behind Google in the search engine market. But a new entertainment sub-site could help better Bing's odds.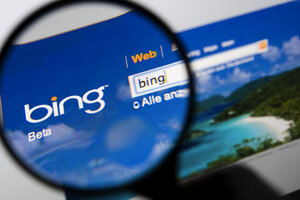 Newscom
Here at Horizons, we are great, unabashed fans of the Bing and Google and Yahoo horse race, if only for the moments of fleeting entertainment it provides. Will Bing ever really unseat Google? Probably not – at least not any time soon. But that doesn't mean that Bing can't bring some interesting ideas to the search engine market. Case in point: Bing's new Entertainment section, which launches this week.
Microsoft is billing its Bing Entertainment tab as more of a portal than a search engine. The heart of the experience is content. The Entertainment site is divided into four distinct sections – Music, Gaming, Movies, and TV – each of which is chock full of videos, MP3 files, and point-and-click games. For instance, the Music section features full-length streaming for more than 5 million songs, along with a repository of song lyrics.
Meanwhile, Bing's TV section is loaded with what Microsoft says is "thousands of episodes from over 1500 shows including lots of HD content." The programs are hosted directly on the Bing site, as are comprehensive viewing guides. Ditto for the Gaming tab, which includes desktop hits such as Plants vs. Zombies and Samantha Swift and the Hidden Roses.
---