iPhone 'Death grip' cripples iPhone 4. Could a patch help?
(Read article summary)
iPhone death grip – not the Vulcan kind, the Apple kind – has frustrated some iPhone 4 owners. The company is rumored to be releasing a software update that would correct the dreaded and controversial design flaw. But it clearly hasn't slowed demand, as Apple tallies 1.7 million iPhone 4 sales.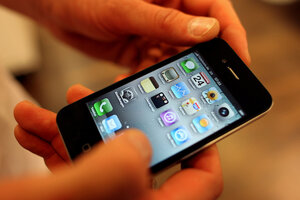 Newscom
Since the launch of the iPhone 4 last week, Apple has been deluged with complaints about poor reception, which many consumers say is directly related to the way the iPhone 4 is held. In the blogosphere, the bug even has its own name: The iPhone 4 death grip. But fret not, Apple fans. Help is on the way. According to the tech blog Apple Insider, Apple is preparing a death grip antidote – and it's coming in the form of a software update for the iOS 4 system.
Previously, of course, most folks – including your humble Horizons bloggers – assumed that the reception issue was directly related to the wraparound antenna unique to the iPhone 4. Apple Insider, however, is reporting that the iPhone 4 death grip may have its origins in the latest iteration of the iPhone operating system. The blog's source is a series of messages – all of which have since been removed – posted to a popular Apple discussion forum:
---