iPhone 'death grip' lawsuit is in the works
(Read article summary)
iPhone death grip has a law firm in California organizing a class action lawsuit against Apple. The complaint: fuzzy reception on the iPhone 4.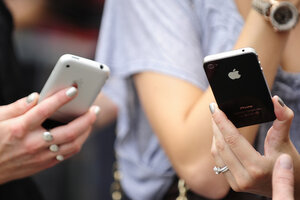 Newscom
iPhone death grip bringing you down? There's a lawsuit for that. Earlier this week, Kershaw, Cutter & Ratinoff, a law firm based in Sacramento, began hunting for consumers so angry about the fuzzy reception on their shiny new iPhone 4 that they're willing to sue.
"If you recently purchased a new iPhone and have experienced poor reception quality, dropped calls and weak signals, we would like to hear from you," reads a note posted to the firm's website.
As we noted yesterday, Apple has been slammed with complaints about the dreaded iPhone 4 death grip, which apparently wreaks all sorts of havoc on the handset's reception levels. According to the tech blog Apple Insider, Apple is readying a death grip antidote – in the form of a software update to the iPhone 4's operating system, iOS 4 – but Apple reps have not confirmed the report.
---