HTC EVO 4G fever too much for HTC
(Read article summary)
HTC EVO 4G handsets are sold out, according to Sprint – and the carrier isn't saying when a new crop of phones will be ready to go.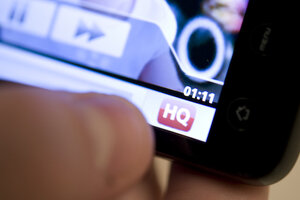 Newscom
HTC EVO 4G fanatic?
First, the good news: Sprint has unloaded upwards of 300,000 HTC EVO 4G handsets, according to at least one new metric. Now, the bad news: The demand seems to be outpacing the production capabilities of HTC, the Taiwanese company which produces the EVO 4G. On the Sprint website, the EVO 4G is listed as sold out, and no prospective ship date is shown.
The HTC EVO 4G, which was greeted favorably by reviewers, went on sale in June.
HTC rep Keith Nowak told the Wall Street Journal Sunday that the hold-up stems from a shortage of parts – especially a touch screen manufactured by Samsung. HTC says it will add more suppliers, and the company is currently "checking flights to the US to see if it can secure extra, last-minute carrying space."
---