What's wrong with Firefox?
(Read article summary)
Firefox, a browser developed by Mozilla, has lost valuable market shares to Google Chrome and a resurgent Internet Explorer. Some analysts now wonder whether Firefox will rebound or go the way of Netscape.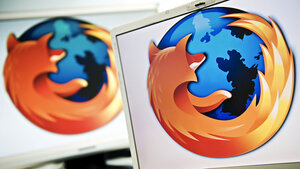 Newscom
More bad news for Firefox: Internet Explorer, long the reigning king of the browser wars, is again gaining market share. According to NetApplications, the month of July was kind to IE, which grew globally by 0.42 percentage points. That's not exactly a major-league gain, but the trend for Microsoft has been a slow skid. Meanwhile, Firefox and Chrome both lost market shares – Firefox by 1 full percentage point.
Here's how the numbers shook out in July: Internet Explorer claimed more than 60 percent of the market. Toward the other end of the spectrum was Apple's Safari browser, which ended the month with 5.09 percent. Google Chrome – a full-featured, highly-lauded browser – fell 0.08 percent to 7.16 percent of the market. Firefox placed second on the leader board, with 22.91 percent.
The numbers are disconcerting for Mozilla and its star browser, but not entirely surprising. In recent months, Firefox has been panned for problems with its downloadable extensions and add-ons, which can be sluggish and unwieldy.
---