Verizon iPhone: Why some say January, and others remain skeptical
(Read article summary)
Verizon iPhone gossip again gripped the blogosphere yesterday. But what do our reader think of the possibility that the iPhone – previously available only on AT&T – might soon become available on Verizon?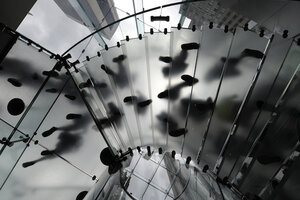 Newscom
According to a slew of reports released yesterday, a Verizon iPhone could hit the US market as soon as January of 2011 – too late for the holidays, but in plenty of time to make life pretty rough for the folks over at AT&T. The January rumor, of course, is one we've heard before, and although the evidence uncovered by TechCrunch is particularly interesting, we'll hold fire before we proclaim the Verizon iPhone a done deal.
But that doesn't mean we don't want to hear from you, our beloved audience. Most of the times we've posted an item on a possible Verizon iPhone, the commenter traffic has turned into a commenter traffic jam within a couple of hours – it's clearly a provocative topic. So without further ado, let's go to the mailbag, and see what you have to say about the possibility of Verizon ending AT&T's – ahem – death-grip on the iPhone.
---