The Wizard of Oz 71st anniversary: Does Google hate round numbers?
(Read article summary)
The Wizard of Oz gets its own Google doodle. But isn't the search engine late to the party?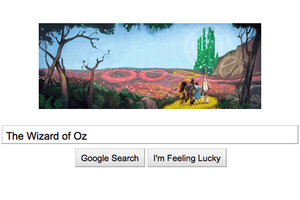 Google
This morning's The Wizard of Oz Google doodle shows once again that the search engine seems to hate round numbers.
The charming banner shows the gang – and Toto, too – skipping down the yellow-brick road toward the Emerald City. It's another great illustration by the website that brought you visual salutes to composer Antonio Lucio Vivaldi, science heavy-weight Isaac Newton, and novelist H.G. Wells.
But why did Google choose the movie's 71st birthday? Most people celebrate round-number anniversaries. Seventieth would make sense. As would 75th.
Last year, the film reemerged in a newly remastered form. This 70th-anniversary special brought the Judy Garland classic back to movie theaters for a historic showing. Now, Google is throwing its own munchkin celebration 12 months later.
These off-year commemorations seem to be the norm for Google. Vivaldi's doodle came on what would have been his 332nd birthday. Newton received his as a 367th birthday present. Wells got the doodle treatment on a 143rd birthday. What gives?
---