Verizon iPhone will get internal antenna, source says
(Read article summary)
Verizon iPhone gossip again surged across the Web this week, in the wake of a new anonymously-sourced rumor.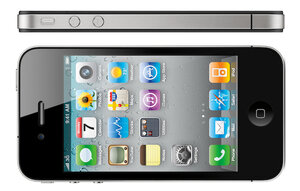 Newscom
What – you thought all those Verizon iPhone rumors would go away? Not a chance. The latest comes from the tech site DVICE, which has chatted with a source that claims to have hands-on experience with a Verizon iPhone. And here's the kicker: the Verizon iPhone, DVICE's source says, would replace the wraparound antenna on the current edition of the iPhone 4 with an internal antenna.
The AT&T-powered iPhone 4, of course, was widely reported to be prone to reception issues – the dreaded "death grip" – apparently caused by a malfunction with the wraparound antenna. Apple sought to tamp down concerns about the iPhone 4 death grip, before finally relenting, and issuing free bumper cases to all eligible consumers.
Now DVICE is saying – and take this one with a grain of salt – that Apple has effectively learned its lesson about external antennas.
"[I]t appears the Verizon iPhone will have an internal antenna, at Verizon's wise insistence," the DVICE team wrote yesterday. "That means no death grip problems and a new, more rugged exterior. There's a small possibility the exterior will be constructed from the new alloy licensed exclusively by Apple for mobile devices, though that's unlikely for this device."
---